Fortnite Season 7 has arrived, and with it a new Battle Pass. As usual, there is an overarching storyline, and the Battle Pass reflects it with new content and characters added in the form of skins.
The aliens, or Kymera, are on one side while the IO are on the other; and they're bringing their leader to the fight. Doctor Slone is joining the fray with this Battle Pass, and she is the boss of Agent Jones.
This Battle Pass is different to previous ones. Rather than a linear reward system, they have now been split into pages.
Unlocking a certain amount of rewards, or every 10 Levels, will unlock a new page. Each page holds cosmetics which are mostly linked, still in style to the old Battle Pass, but players can spend Battle Stars to purchase the rewards.
Battle Stars are earned by levelling up, and basically allow players to choose the content they're receiving and the order in which they receive them.

Page 1
The first page introduces some of the more alien elements. A 'Fishstick Janky' Back Bling as well as the 'Pulse Phase' Wrap, This also gives the 'Abduction!' Contrail, where UFOs will chase you as you fall, and a 'Lil' Saucer' Emote where players find themselves spinning in a little UFO.
The highlight is Kymera. This skin has a possible 2,000 Styles as players are able to fully customise and combine parts to create their own style. Players can find Alien Artifacts across the Island and in Cosmic Chests, these are then used to purchase different customisations for Kymera. This can range from Head styles to Eye colours, as well as Armor colours.
Some sites are claiming it's as high as 800,000 different looks, but Fortnite claims it's 2,000. You can do the math if you want to find out.

Page 2
Unlocked after 5 rewards are claimed, or upon reaching Level 10.
The next two Pages are all about Sunny. Sunny is an alien sympathizer and punk rocker, and her cosmetics fit the bill.
This Page not only includes the Sunny skin, but also the 'Oozey' Wrap, which makes your guns look like lava lamps, and a guitar Harvesting Tool in the form of 'The Fret Basher'. Players can also get 'Sunny's Song' as Music too.

Page 3
Unlocked after 11 rewards are claimed, or upon reaching Level 20.
Page 3 adds onto the Sunny content, with a colourful 'Cluttered' Contrail and a 'Patch Pack' Back Bling.
This Page also offers an alternative Style for Sunny, with the 'Voyager Sunny' Style.

Page 4
Unlocked after 18 rewards are claimed, or upon reaching Level 30.
Guggimon is apparently a synthetic artist who thrives in the chaos. Bringing an axe as a Harvesting Tool and a skull encased in a rabbit head balloon in the form of the 'Chop Dropper' Glider, this Page seems to be a combination of cute but sinister.

Page 5
Unlocked after 26 rewards are claimed, or upon reaching Level 40.
Joey is an alien in disguise, although you won't really see that until later Pages.
This Page features Joey as an agent, covered in tattoos and an eyepatch. This is where we see the flower protector which was teased too, although in the form of the 'Galactic Pack' Back Bling, which can be given a new Style later on.
A highlight of this Page is the 'Inversion' Contrail, which has different visual effects based on the time of day at the Island.

Page 6
Unlocked after 36 rewards are claimed, or upon reaching Level 50.
This Page adds on to the Joey line, and brings the 'Meowscles Janky' Back Bling.
The 'Beamers' Wrap puts UFOs onto your guns, while the 'Sunburnt Galactic Pack' Back Bling gives players the flower protector which was teased on social media.
However, the 'Unzipped' Built-In Emote allows players to turn from Joey to an alien in game.

Page 7
Unlocked after 48 rewards are claimed, or upon reaching Level 60.
Page 7 seems to climb up the hierarchy of aliens, with Zyg the battle android.
Included in this Page is the 'Light Streak' Contrail, and some Zyg cosmetic. A 'Chainblade' Harvesting Tool, and the 'Zyg Ray' Glider which looks a lot like a mechanical stingray.
Zyg is a battle android created by Choppy, and Choppy is included as a Pet in this Page.

Page 8
Unlocked after 61 rewards are claimed, or upon reaching Level 70.
Page 8 introduces the more human forces, with Doctor Slone taking front and centre.
With somewhat special ops and stealthy cosmetics, such as the 'IO Stealth Sail' Glider and 'Drop Jet' Contrail, to go with the 'IO Orchestrator' Back Bling and 'IO Eradicator' Harvesting Tool.
Doctor Slone takes front stage as she leads the IO against the invaders.

Page 9
Unlocked after 75 rewards are claimed, or upon reaching Level 80.
Page 9 mostly adds some new styles and extra cosmetics, with a couple of Emotes and V-Bucks available to unlock.
This Page also gives a 'Battlesuit Slone' Style for her skin, as well as a 'Molten Midnight Zyg' Style for his skin.

Page 10
Unlocked after 90 rewards are claimed, or upon reaching Level 90.
Page 10 is the Rick and Morty Page.
Rick Sanchez obviously takes the centre stage here, with the teased 'Butter Robot' as Back Bling, and 'Hammerhead Morty' as a Harvesting Tool.
This Page also offers 'Rick's UFO Cruiser' as a Glider, and a Wrap which emulates 'Rick's Portal' across it.
This is not a fully comprehensive list, and does not include all the Emotes, Wraps, Loading Screens, and Icons. Players also have the ability to unlock 1,400 V-Bucks through the Battle Pass too.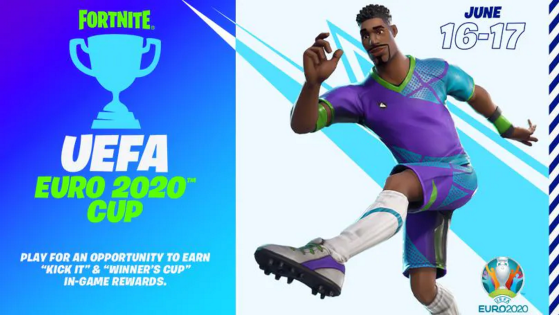 To coincide with the UEFA Euro 2020, Fortnite will feature a weekend event to celebrate. Players will get a chance to earn in-game rewards as well as prize money.
Superman has also been confirmed as joining Fortnite. His two Pages are due to unlock in 65 days, and will feature Clark Kent.
Players can then unlock a Built-In Emote to turn him into Superman, as well as 'The Daily Planet' to wear as Back Bling.
Page 2 will then feature 'Kal-El's Cape' as a Glider, and the option for a Shadow Style to Clark Kent and Superman.
The Bonus rewards are also already up too.
Page 1 will be unlocked after claiming 100 rewards, and will grant access to a more beach ready Style for Sunny, and new Styles for Slone and Joey.
Page 2 will come at 105 rewards claimed, and will give access to a masked Guggimon, 'Mechaglow Zyg', 'Toxic Rick', and Battlesuit Slone but wearing shades all as Styles.
There are a further three Pages of bonuses, all unlocked at 5 reward intervals, but the content is yet to be revealed.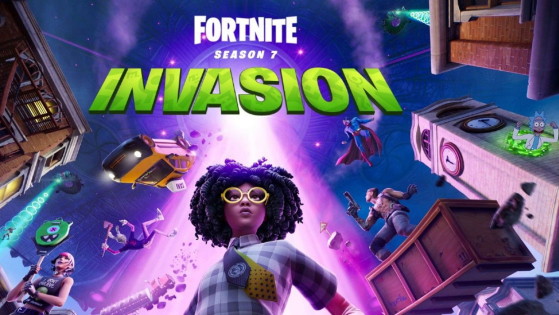 Aliens invade the Island, bringing new weapons, vehicles, and a new Battle Pass to the game. Doctor Slone leads the IO against the extra-terrestrial visitors, and you can join the battle in Fortnite: Invasion