Watch Dogs: Legion is one of Ubisoft's most ambitious Watch Dogs titles yet. It finds you tasked with joining hacker group DedSec as they work to clear their name following a series of bombings in London. An authoritarian military group called Albion has taken over in this vivid image of a dystopian future, and it's your job to push back against their rule while fighting for London.
The entire draw of Watch Dogs: Legion is that you can play as just about anyone you want from a wide variety of NPCs (though relegated to only a couple of different body types). But each character has their own unique abilities, not all of which include guns in their repertoire. How can you get guns when the NPCs you use don't come with them? We've got everything you need to know about doing just that.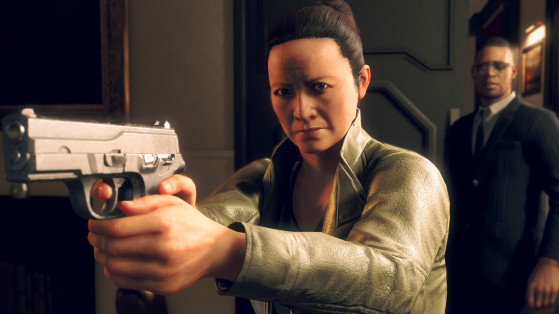 How to get guns in Watch Dogs: Legion
There isn't really a way for you to get additional guns in Watch Dogs: Legion unless you have characters who bring them to your team in the first place. Basically, you have to find people who have their own guns and bring them over to your side, as odd as that may feel for a game from Ubisoft and its cadre.
This is why it's so important to check out recruits before you bring them on as DedSec members. It may sound silly, but you'll have to actively search for people who have guns if you want to have access.
Luckily, there are pretty easy ways to predict whether certain recruits will bring guns into the picture. You just need to keep an eye out for certain people, and luckily there are archetypes in the game that are predictable enough to follow.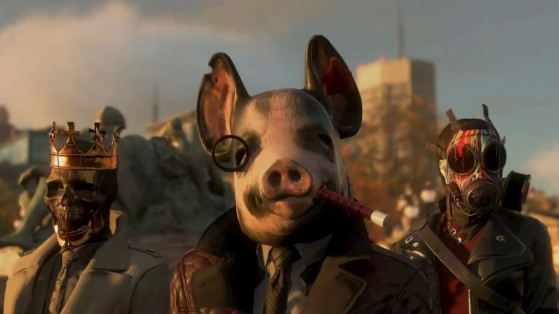 The best Watch Dogs: Legion NPCs with guns
There are a certain number of NPCs in Watch Dogs: Legion you can track down that will have the guns you're looking for to improve your group of DedSec agents. Here are some you can look for that are guaranteed to have weapons you can employ quickly and easily:
Construction Worker: Head into any construction site or around it in Watch Dogs: Legion. Look for a construction worker to recruit. They'll typically come rocking a nail gun, which will instantly eliminate enemies in one hit if you're able to bring them into your fold.
Spy: Finding a Spy NPC will be a bit more difficult than stumbling into a Construction Worker. You'll first need to make sure you complete enough of the story to bring Westminster against Albion. Once you do, you should be able to find a Spy character walking around there. Recruit a Spy to open up access to a P9, which is silenced. This is a great option for when you're trying to pass through a particular area stealthily.
Hitman: The Hitman's Desert Eagle is one of the most useful weapons in the game, but unless you luck out at the beginning of your journey with DedSec, it might be hard to get a Hitman. Play through the game long enough to cruise through Nine Elms and you should be able to spot some Hitman characters. Make sure you nab at least one because the Desert Eagle is a deadly tool.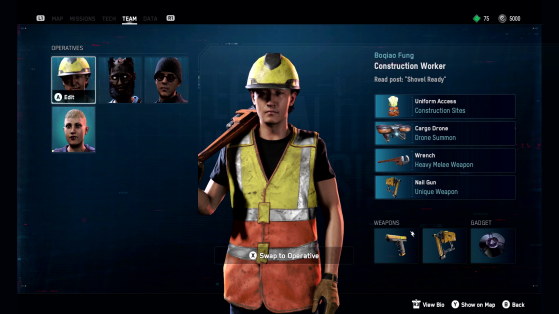 You'll occasionally find weapons on other NPCs, including the following archetypes:
Drone Expert

Paramedic

Anarchist

Police Officer

Hacker
Keep in mind that you cannot hand off your NPC's weapon elsewhere. You must use that particular recruit if you want to utilize their weapon. Unfortunately, this might be a little frustrating if the NPC otherwise isn't up to snuff with what you need, but therein lies some of the challenge.
You'll have to mix and match to find what you need in Watch Dogs: Legion, but that's part of the fun. Just be sure to hang on to the NPC you find with the weapons you need, because they will, unfortunately, tend to be few and far between.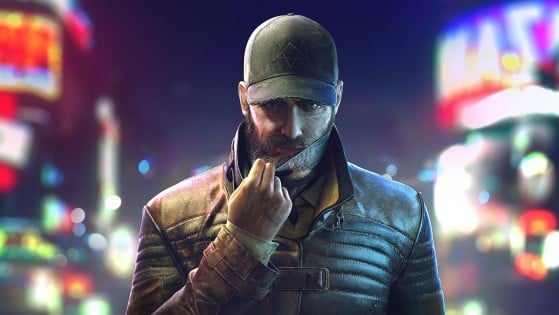 top-games
Here's how to add Watch Dogs protagonist Aiden Pearce to your game and experience additional content.