Razorfen Downs (RFD) is a Dungeon in World of Warcraft Classic which can be accessed from Level 35. The entrance to the instance is in The Barrens, and due to this, it considered a Horde-only instance. However, there is nothing stopping the bravest of Alliance players from going behind enemy lines in search of the dungeon's treasures.

A Brief History Of
This gigantic and winding labyrinth plays host to a large number of quillboars, as well as their high priests. This large army is known by another name — the Death's Head tribe. However, a shadowy evil has fallen over their lair, with agents of the Scourge taking control of the quillboars and transforming the labyrinth into a headquarter for the Undead power in the region.
Currently, the quillboar army is desperately attempting to take back control of their home, yet Amnennar has not budged an inch. The Scourge must be stopped as soon as possible, before the undead claim The Barrens under their influence.
Dungeon Location
Razorfen Downs is a Level 35 Dungeon, but you should be at least Level 40 in order to feasibly complete it.
The Dungeon is found under the Horde zone of Orgrimmar. You can find its entrance opposite of Razorfen Kraul, as the two are in the same zone.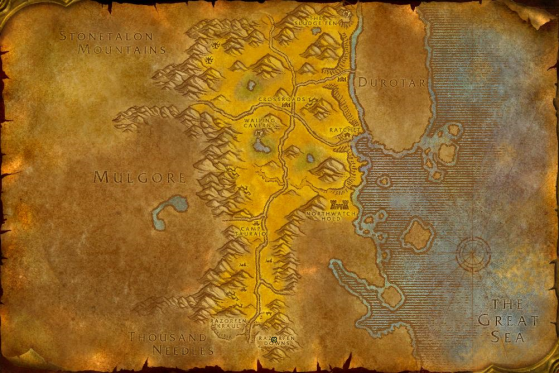 Dungeon Information
Bosses
Boss

Abilities

Location

Tuten'kash

Curse of Tuten'kash

Virulent Poison Proc

Web Spray

In the centre of Razorfen Downs

Plaguemaw the Rotting (Optional Event)

Putrid Stench

Withered Touch

Final boss of Belnistrasz's escort quest

Mordresh Fire Eye

Fire Nova

Fireball

Dancing on top of The Bone Pile

Glutton

Disease Cloud

Enrage

In the Spiral of Thorns

Ragglesnout (Rare)

Shadow Word: Pain

Shadow Bolt

Heal

Dominate Mind

In the Spiral of Thorns

Amnennar the Coldbringer

Amnennar's Wrath

Frost Nova

Frostbolt

Summon Frost Spectres

Final boss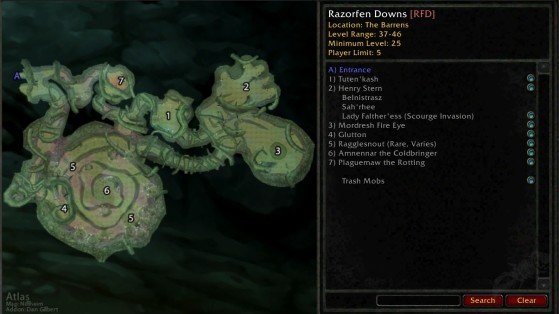 Loot
| Notable Gear | Dropped By |
| --- | --- |
| Arachnid Gloves | Tuten'kash |
| Plaguerot Spring | Plaguemaw the Rotting |
| Glowing Eye of Mordresh | Mordresh Fire Eye |
| Glutton's Cleaver | Glutton |
| Robes of the Lich | Amnennar the Coldbringer |
| Coldrage Dagger | Amnennar the Coldbringer |
| Icemetal Barbute | Amnennar the Coldbringer |
Dungeon Quests
| Alliance Quests | Quest Givers | Location |
| --- | --- | --- |
| Bring the Light | Archbishop Benedictus | Stormwind |
| Horde Quests | Quest Givers | Location |
| --- | --- | --- |
| Bring the End | Andrew Brownell | Undercity |
| An Unholy Alliance | Drops from Charlga Razorflank | Razorfen Kraul |
| Neutral Quests | Quest Givers | Location |
| --- | --- | --- |
| Extinguishing the Idol | Belnistrasz | Razorfen Downs |
| A Host of Evil | Myriam Moonsinger | The Barrens |
Best of luck on your adventures into Razorfen Downs!
Written by Effylia, Translated from the French by Millenium.