The Temple of Ahn'Qiraj (AQ40) is a Raid in World of Warcraft Classic which will be released during Phase 5 (Date unknown). It is the next 40-man raid max level players will encounter. Read more about AQ40 below.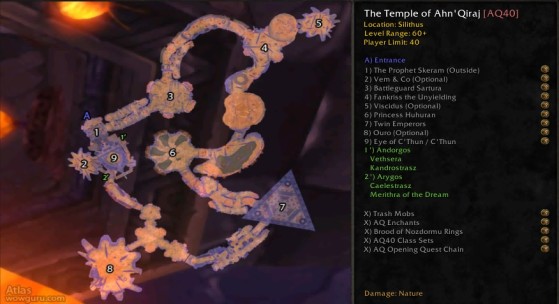 Raid Information
The entrance to this instance can be found in southern Silithus.
If you are affiliated with both the Cenarion Circle and the Brood of Nozdormu, you'll be able to accept all quests given by the various different NPCs inside the instance (located at 1 and 2), as well as from Anachoronos, who can be found in the Cavern of Time in Tanaris. In addition to giving you a set amount of reputation, these quests allow you to get your hands on valuable rewards. Every boss you defeat will also give you a certain amount of reputation.
You'll also find keys which will allow you to open lockboxes containing exchangable Scarabs and Idols, as well as Ahn'Qiraj-exclusive mounts and the Base of Atiesh, a key component in crafting Atiesh, the Befouled Greatstaff. Finally, AQ40 also rewards players with Tier 2.5 gear.
You'll be able to take on this raid as soon as your server finishes the Gates of Ahn'Qiraj world event!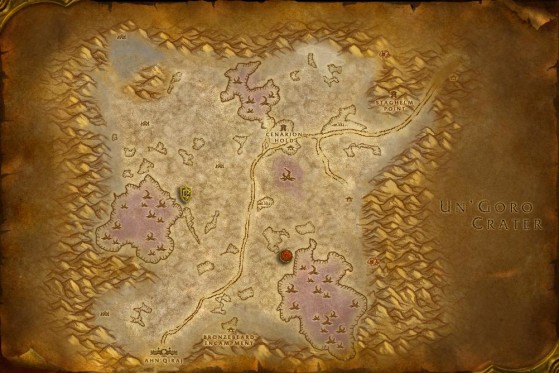 Items
Here is a list of items that will help you defeat certain raid bosses in AQ40:
Item

Boss

Greater Nature Protection Potion

Viscidus

Princess Huhuran

C'Thun

Greater Shadow Protection Potion

The Twin Emperors

Frost Oil

Viscidus