Mortal Kombat 11 developer NetherRealm released the first Rambo gameplay, featuring a brutal, gory Fatality that's perfectly on-brand for the game.
Footage shows Rambo, voiced by original actor Sylvester Stallone from the movies, using guns, knives, a bow and arrow, booby traps, and an array of physical attacks to beat an opponent into submission.
The Fatality includes Rambo ripping out an opponent's throat. Watch the clip below, but beware, it's filled with mature content. The Fatality starts at 1:40.
The clip is one of the game's more graphic Fatalities, but how does it stack up against some of the series best? Let's take a look.
The Kano heart rip
Let's start with a classic. The first game spurred a congressional inquiry into video games that led to the creation of the ESRB game-rating system still in place today.
Kano, a crime lord with a metal plate covering one of his eyes, punches into an opponent's chest and tears out a beating heart, while blood drips everywhere. He then holds it triumphantly above his head in a victorious fashion.
D'vorah gives enemies new life
D'Vorah is a mass of colonial insects that form a human-like body, so it's no surprise that one of the games most unnerving Fatalities involves a species transformation. This one is also from Mortal Kombat 11.
She vomits a mass of maggots and bugs into an opponent's mouth. The opponent twitches, regurgitates green foam, and then grows four pincer legs. Then, the head splits open revealing a new spider-like head. Truly one of the more twisted finishers.
Quan Chi's beatdown
This one's from Mortal Kombat 9. Quan Chi is a demon who uses dark magic and necromancy, but this Fatality is something that wouldn't be out of place in a Quentin Tarantino film, as it employs brute force rather than magical tactics.
It's simple in execution but brutally and literally unnerving. Quan Chi rips off an opponent's leg and beats them to death with their own appendage until the head is gone. He continues the leg barrage regardless.
Kung Lao splits the difference
Kung Lao, made his debut in Mortal Kombat 2. The Shaolin monk viciously employs a razor-rimmed hat to a devastating degree.
One of his most uncomfortable Fatalities takes place in Mortal Kombat 9. He slams his hat on the ground and makes it spin like a buzzsaw, knocks his enemy off their feet, and then drags them by the legs through the spinning blade. It's... hard to watch.
Mileena's meal
Mileena is a clone of series stalwart Kitana, and she has an insatiable taste for eating her enemies. In this Fatality from Mortal Kombat 10, her razor-sharp claws eviscerate her enemy brutishly. She separates an enemy's torso from their legs, as they try to slink away with their arms. She then eats organs like they're a Thanksgiving Day meal.
Noob Saibot also takes half
This might be the best. And by best, I mean most disturbing. Noob Saibot appeared in a few iterations of the franchise. His Mortal Kombat 9 Fatality was one for the ages.
Noob calls his shadow clone for help, grabs his opponent by the legs, and literally tears them in half, while organs plop on the floor like the contents of a dropped grocery bag.
The Verdict
When viewed against the litany of Fatalities over the years, Rambo's ripping out a throat almost seems almost gentle in comparison, especially given the execution.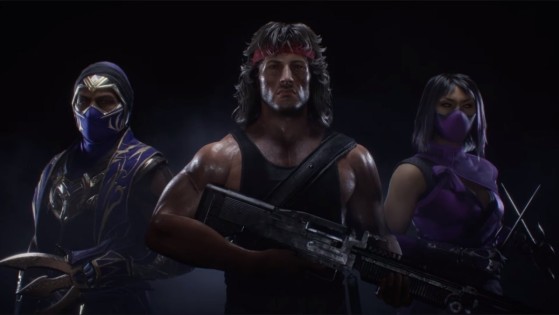 Mortal Kombat 11 adds Kombat Pack 2 with a ton of new features including new characters.