image credit: Capcom (Juri)
Almost every game announced something , whether it pleased the fans or not. Here is a quick summary of the various announcements that caught our attention.
Multiverse
Nothing too crazy on that side. Arcade and ranked modes will be added when the game is released in August (even if you can already play the open beta), as well as Season Pass 1. Finally , only the arcade mode is new (without being a real surprise), but given the recent announcements around the game, it makes sense that the developers don't have much more to announce at the moment, but it's likely that big announcements are coming in the months (weeks?) to come.
Dragon Ball FighterZ, Persona 4 Arena Ultimax and Samurai Shodown 2019
The netcode rollback has been announced, which will improve the online experience. DBFZ will also be ported to PS5 and XBox Series .
Rumble Fish 2
The game will land for the first time on home consoles and PCs .
Skullgirls 2nd Encore
Black Dahlia has revealed itself more (although you could already play it on the beta version available on PC for Season Pass holders). The real announcement was the identity of the last character of this season , which will finally allow us to play the Skullgirl: Marie . She probably won't be playable for a few months, but at least the mystery is out.
Granblue Fantasy Versus
An online circuit has been announced, but still no netcode rollback.
Melty Blood Type Lumina
The announcements have been consistent for the Type Moon game. An original fighter already added and free , has been revealed.
Besides Neko-Arc (revealed a few days ago), another female warrior will be joining the game this summer. A huge balancing patch has also been confirmed, which should change a lot of game mechanics, including some things players are complaining about. All additions (patch and new characters) will be free . Two other protagonists, also free, will arrive this winter.
King of Fighters XV
The awakened Team Orochi trailer has been re-released, as well as its release date : today (08 August 2022). The final team for Season Pass 1 has been revealed, and will exclusively feature characters from Samurai Shodown: Darli, Nakoruru, and Haomaru . Fans of the license will be happy to learn that Shingo Yabuki and Kim Kaphwan will also arrive in the game, for Season 2, which has also been announced. Crossplay will be coming to the game.
A new game from the Garou Mark of the Wolves license has been teased.
Tekken 7
Bandai Namco has announced a big balancing patch , which will arrive on August 17th . The venue for the Tekken World Tour Finals has also been revealed: Amsterdam. Finally, an image of an unreleased version of Kazuya Mishima was shown at the very end. This probably means that a project is in the works, but nothing can be shown at the moment. The first idea that comes to mind is of course Tekken 8, but it could be a remake of the first Tekken of the name, or even a new Tekken Tag (although much less likely and not very consistent with the way of showing the image). We will have to wait for more information on this subject.
street fighter 6
An announcement on Street V has been made, although it is not directly related to the game, but to the official competitive circuit. The Street Fighter League will also be established in Europe , finally giving us the right to our own Street Fighter V team circuit . None of the participating teams have yet been revealed, but it is highly likely that Luffy and Mister Crimson will participate.
Two names of American commentators featured in the Street 6 feature have been revealed: James Chen and Tasty Steve .
Two fighters were shown: Kimberley , an original character, who we had already seen in the first trailer. Its gameplay seems geared towards the aerial realm, as many of the shots shown start in the air. She also has a special teleport/dash where she disappears into the cloud of paint to reappear somewhere else. Juri will return to the base cast of Street 6, and has picked up several hits from Street IV including his dive kick. Two super news were shown. The Feng Shui Engine has also been put forward, without it being possible to be sure that it will be more than a cosmetic feature.
EVO Japan
EVO Japan was announced from March 31 to April 2, 2023 . It will be the first Japanese major since the pandemic . Four games will be there: Guilty Gear Strive, Tekken 7, Street Fighter V and King of Fighters XV. Others will be revealed later.
Guilty Gear Strive
History to take everyone on the wrong foot, Arc System Works decided to show an animated music video . After this little love (and a little eye candy), they finally announced season 2 with the first fighter: Bridget . He returns (yes he is a man often confused with a woman) with his yoyo and his mechanical teddy bear: Roger . There will be 4 new characters for Season 2. Bridget is available today (August 8, 2022), and the next Daredevil will arrive before the end of the year . The last two will land in 2023 .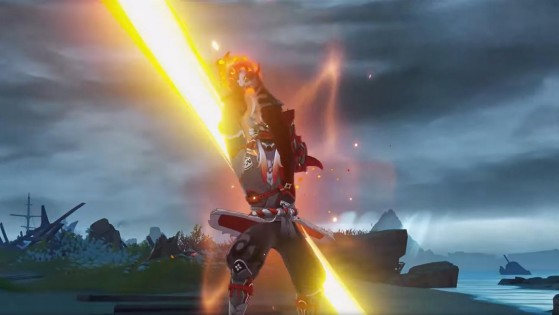 After the reveal of Genshin Impact's 2.0 update highlighting Inazuma, where you will find characters like Baal, Ayaka or Sayu, it is the Divine Path system that needs to be clarified.