Luffy began playing under license from Capcom with the release of Street Fighter IV in 2010. He quickly rose to prominence in domestic tournaments, and four years later became the first Western player to win the EVO open tournament on Street Fighter IV. His loser run where he eliminated Fuudo, Momochi and Mago before resetting the bracket against Bonchan, to finally win, remains a great moment in Street Fighter IV. Since that moment, Luffy kept on shining on Street Fighter, but this year his projects, like those of all professional players, found themselves blocked because of COVID-19 and the end of offline competitions. . Far from being let down, he looks back for us on his year 2020 and discusses his 2021 projects .
How did you feel when they announced the Capcom Pro Tour 2020 cancellation ?
It was a very big disappointment of course. For all professional players, it was difficult. We had to adapt as best as we could. It is also sad for the final initially planned in Paris. Besides the advantages that it could have represented for me, between the support of the public and no jet lag, hosting the Capcom Cup in Europe would have been great. This would also have given the European players a little advantage, because it would have been easier for them to come. The Last Chance Qualifier (there is always a tournament open a day before the Capcom Cup, and the winner of this tournament named Last Chance Qualifier qualifies for the Capcom Cup) could have been won by a European, creating some strong moments around the tournament, for EU Community.
To replace it, Capcom created the Capcom Pro Tour Online, with regional limitations to avoid lag. Only the far from flawless online gameplay posed issues for players during certain events. Looking back on this, what is your opinion on this solution?
If I fully understand the desire to not spend a year without competition, calling it Capcom Pro Tour was a mistake in my opinion, even if they added Online. The Capcom Pro Tour represents the official circuit of a game designed and created for offline, unlike LoL or CS. Suddenly changing the qualification system, as well as the playing conditions, while keeping the symbolic value of the tournament through its name, is a strange choice, which can create confusion. In addition, as a pro player, I sell visibility to sponsors, and I am judged on my results. In 2020, a sponsor could see that I did not qualify for the Capcom Cup and therefore think that I played badly, whereas compared to previous years, qualifying was much more difficult since there is had only 2 direct qualifying tournaments for our region. Compared to the points circuit system, my qualification opportunities were slimmer than in previous years, although of course I was not at a disadvantage compared to another player. The results go in this direction, there are more little-known players qualified this year than the others.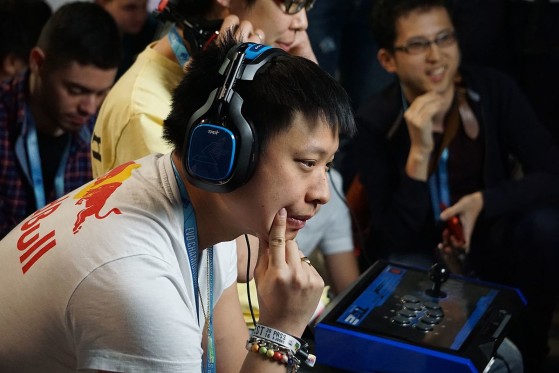 Has the absence of tournaments affected you this year at the level of your sponsors?
Not directly. Gamers Origin and Red Bull understand the situation very well, and know that I am doing my best. Of course, I wasn't able to find new sponsors, but that's not a direct loss. On the other hand, the absence of cash prize can pose problems in the long term, and posed some to other players who need this additional fmoney.
What memories will you keep of your participation in this year's official online tournaments?
Quite frankly, I don't like playing online at all. Even setting aside the latency and lags that already spoil part of the experience in both winning and losing, playing from home is not the same as playing in a physical tournament. The mental preparation is not the same, and I find it easier to stay focused on the spot, playing against other participants to train, while at home, I just wait for my next game. The next match which will also potentially be spoiled by lags, so I don't know right now whether it's worth the wait or not. And of course, during a physical tournament there is also contact with the public, the people that we have been seeing for years, in short, nothing comparable for me with an online experience.
Even if you weren't able to qualify directly for the Capcom Cup, there is still a way to send you, via the community voting organized by Capcom. What is the principle?
It is a vote to send one of the participants of the Capcom Cup 2019 to the edition of 2020. Everyone can vote, but each vote does not have the same value, which can range from one vote to fifteen votes. It must first vote for the player on the page of the event , which counts for one vote. If the person then links their Twitter account to their Smash.GG account (Smash.GG is a site for organizing tournaments on various games, recognized by several esport communities. To create your account, click on the blue square indicated on this picture ), your vote is then worth nine additional votes. And finally, if you follow Smash.GG on Twitter , your vote is worth another five more votes, bringing the total to 15. Of course, if someone votes with a Smash account already linked to their Twitter account, they don't. need to redo the operation. It won't necessarily be easy for me to go there, considering that some big names have found themselves on the floor this year, but I have never missed a Capcom Cup since its inception, and that would depress me a bit. stop this series due to the special circumstances of 2020.
Speaking of Smash.GG, could their recent takeover by Microsoft change things on the FGC [Fighting Games Community] stages ?
As nothing other than the takeover has been announced, it is impossible to know what Microsoft hopes in this takeover. It is not impossible that this will be a war for the dominant medium of the next few years, much like Sony won the battle with the Playstation 4 as Street Fighter V was initially a PS4 and PC exclusive. By taking over Smash.GG, Microsoft will certainly have more leverage in this area, and next-gen media may well be the Xbox, or even the PC. It would still be hard for all independent events, which will have to redo their consoles / PC park, which represents a huge cost.

In addition to the Capcom Pro Tour, the Street Fighter League is also an official circuit where players compete in teams of three. Could this format become popular in the future?
This is a format that has been around for a long time in fighting game tournaments. The creation of professional circuits like the Capcom Pro Tour mainly popularized 1v1, because it is bound to be easier to pay one player's fees than three, but limiting these leagues to regions is a good idea. This can give promising players a chance, as it requires less investment than doing a year of Capcom Pro Tour, and as a bonus they will benefit from their team veterans experience. From a strategic point of view it's very interesting, because the players have to think about the different possible match up according to their opponents, and anticipate which character will be banned. It forces players to have a secondary character, while in solo the absence of ban does not force to work another fighter. The atmosphere is not the same as in 1v1 either, the players are more relaxed even if they all take the tournament seriously. It's also easier to storytelling, to create a stake around certain players / certain teams, because unlike an open offline tournament, they are certain to meet at some point, whereas in a 1v1 tournament, both players can be eliminated without ever crossing paths.
How is the balance right now on Street Fighter V?
It is correct. This is arguably the best version we've ever had on the game, but there are still some issues. In my opinion a little nerf on Sett wouldn't be luxury. G is also unbalanced, his risk / reward ratio is poorly balanced. Currently G can have big rewards by taking little risk, and this should be reviewed a bit. A patchnote will be coming to the game soon, probably for Dan's release. Rumors speak of a new mechanic that would be implemented during this update, or even new Critical Arts (Super), but nothing is certain.
Where would you place R.Mika in the third list?
She's a good character, her only flaw is not being OP (laughs). It would either take a few extra facilities to open the guard, or more damage when she manages to do so, to par with the top tiers. Basically for Mika to be top tiers, you have to either give her something broken, or nerf the characters stronger than her (laughs). Given the Street VI rumors, I don't think Capcom will make any major changes to Street V, so it's unlikely to end up on the top of tiers list.
The fighter you won the 2014 EVO with, Rose, will be back this year. Although her gameplay is very different from Mika's, what do you hope to find in her Street IV?
For the anecdote, I chose Mika because Rose was not in Street V. Being at first a King of Fighters player, my team was formed with Mai and King who are zoners, but also of Vice a grappler. On Street V, I wanted to stick with my reputation and play a female character. When the game came out there were only three, Chun-Li, Laura and Mika. Not liking charge characters like Chun-Li, I ended up choosing Mika. For Rose, I hope she will keep her projectiles and her reflect. She would be a great addition to Mika, being very comfortable against characters who abuse their projectiles and choppers. After that, we have to see what it will keep from Street IV because if characters like Honda and Blanka have retained a similar gameplay, others like Ken and Sakura have been profoundly modified.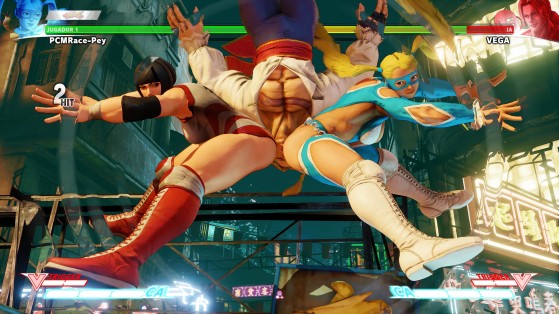 Could you change your main with this release?
Of course. Starting a new character in a game is not easy because you have to relearn every match up, but Rose has allowed me to build my career. I will do my best to bring her to the highest level.
And a controller (Luffy is still playing with his Playstation controller)?
If I can avoid it, no. I am used to its weight, its ergonomics. I'm less a fan of current controllers that I find too heavy. Afterwards, I remain a professional, if I have to adapt, I will adapt (laughs).
Despite the confinement, the French community on Street Fighter has not remained inactive. You also created the Supa Strong Championship, an event bringing together the best French players. Are these kinds of initiatives common?
Yes quite. Besides the Supa Strong Championship, we also had the Quarantine Fighters, and other tournaments organized in particular by Nice Cactus and ASM Esports. There were almost more tournaments during COVID than before (laughs), in a great atmosphere. Coming back to Supa, I was one of the co-organizers with Abou, Konvy and Warry. The goal was simply for the best French players to compete against each other for several weeks, in order to progress. I ended up second, which somehow makes me the second best French player in 2020, behind Mr Crimson. But I want to clarify that if there had been international events, then my experience would undoubtedly have played in my favor, and I may have retained this title. After that it's difficult in the current circumstances to give everything, I don't want to take anything away from his merit because at that time he was the strongest, but honestly I don't think I played at my best level at that time, especially because I don't like online.
Is there another edition planned ?
We want to repeat the experience in 2021, in January if possible. This experience was great for us and for the community, and we will do everything to offer a second edition.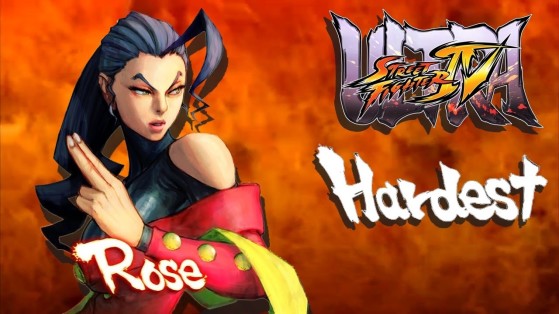 How to train effectively during confinement?
No secret, you have to play online. But it is difficult, because we must also avoid taking bad reflexes, and in addition the lack of competitions as well as the lags which spoil certain parts weigh on morale. Maintaining motivation is therefore difficult. I'm not the only one in this case, Problem-X shares my opinion on this topic.
What are your plans for 2021?
Just switch to Rose and get the best possible result at the Capcom Pro Tour 2021. It will be a real challenge for me, because I never change characters after five years of playing, and I will only have a reduced time to catch up with those who have stayed with the same fighter since 2016. It will be a very big challenge, but I am able to meet it.
Any last word ?
2020 was a difficult time for everyone, but the French Street Fighter community has risen to the challenge. Let's continue to train and progress together.
You can follow Luffy on Twitter , find him live on Twitch, and vote for his participation in the Capcom Cup on Smash.GG .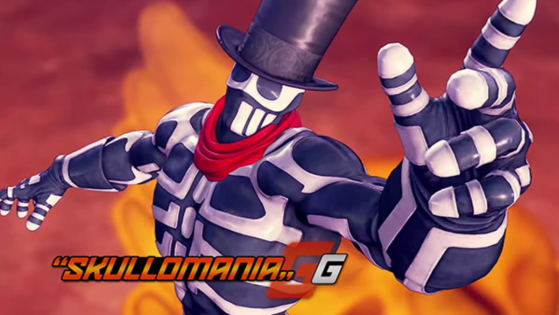 After Camille and Ryu, it's the turn of G is receiving an outfit from Fighting EX Layer. It will be available from December 8, 2020.