Baby isn't among the most popular DBZ characters, so this comes somewhat as a surprise. The trailer reveals that indeed the transformation into a giant golden ape will be present in some cutscenes.
Some of his moves will be directly inherited from Vegeta, some being shown in the trailer, while others are original.
Super Baby 2 will be available from January 15, a little later than we had hoped. The trailer concluded with the announcement of the next character, also from the GT saga: Gogeta SSJ4.
An event bringing together the various competitive games in the Dragon Ball franchise (FighterZ + Legends + Dragon Ball Super card game) has also been announced for March 7 in Japan.
As for the grand finals, we saw Go1 and Kazunoko face off against one another. The Season 1 world champion managed to turn the whole tournament together so he could challenge the winner of both 2019 EVO and 2019 World Championships, Go1.
The match started very tight, with each player taking a set from their opponent. Kazunoko took the advantage in the third round, thanks to good reads, which annoyed Go1 a little. He responded by taking the fourth round without losing a fighter.
SonicFox's great rival pulled off a magnificent Happy Birthday for the fifth round, nearly killing both Kazunoko's Goku UI and Gotenks in a single loop. At this time, Kazunoko has just taken two consecutive rounds without being able to take a character from his opponent.
The iconic Yamcha player managed to do better in the next match, but Go1 remained uncompromising and gave himself match point. Kazunoko finally managed to override his opponent's defense, and saved the point -  bringing it back to 3-4.
The eighth round was a real symbol. While Kazunoko managed to gain an advantage early in the set, killing two of his opponent's characters, Go1 - thanks to his mastery of Goku GT - brought it down to a one-on-one.
The last two characters were Goku GT (Go1) and UI Goku (Kazunoko), the strongest character in S2 and the one who took his title from him in S3. Logic was respected, Kazunoko and Goku UI would play the decisive round.
This time Kazunoko was unstoppable, not losing a single character. After saving two match points, the former world champion in Street Fighter IV and Dragon Ball FighterZ, took back his title in the land of the rising sun.
Kazunoko confirmed the curse of the first national championships, where no regular season winner has managed to win the playoffs.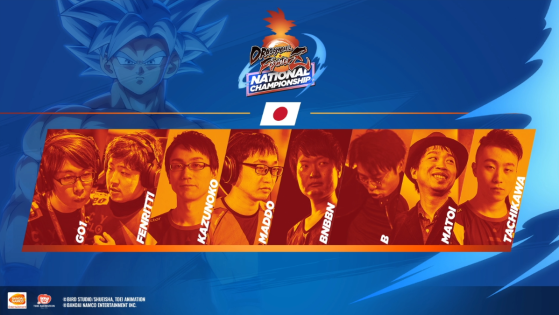 esports
Find the information, program, dates, times, streams, and results of the American Championship of Dragon Ball FighterZ, to determine who is the best player in the land of the Rising Sun.