Revealed during Japanese Championship finals, Super Baby 2 is a character that players might not necessarily expect as the GT Arc is not the most popular. While the question of this fighter's strength compared to the rest of the cast is yet to be determined, some of his original mechanics have been revealed. His ki blasts will undoubtedly be the character's greatest strength. He can unleash a flurry of kikohas like SSJ Vegeta, but if they miss their target, they come back to strike the opponent from the side where they left the screen (which can therefore cause them to arrive behind the opponent) . His 6S will come back to strike the enemyhe even if it hits or misses. His 214S is an anti-air with invincibility frames, quite similar to Yamcha's, and whose kikohas also come back whether they hit or whiff. Many of the character's combos appeal to his kikohas. His A assist is a volley of projectiles that also return if they whiff.
His projectiles won't be the Tsuful's only weapon. He also has a very useful divekick (which is actually a punch) for bouncing the opponent off walls. This move is also his B assist. Super Baby 2 can also use a command-grab similar to Vegetto's, which results in a heavy take-down. The most powerful tool in his kit may well be his ability to summon assists from dead characters on the opposing team, in exchange for half a ki bar. It should be noted that Super Baby 2 is not limited by the assist selected by the opponent at the start of the match, and can use the one of his choice, including the C assist which, depending on the character copied, may lead to incredible combos. However, it is only possible to use this ability once per combo, to limit the Touch of Death (when a health bar goes from 100% to 0% in a single combo). The assists used will always be those of the last dead character, it is not possible to choose between two dead opponents.
Super Baby 2 therefore has various tools, making the character an interesting mix with good zoning tools but whose goal seems to be more to open the guard to lead to fantastic combos, than to totally control the opponent during the match. With one of the most powerful lvl 3 in the game (containing mechanics similar to GT Goku's, i.e. it improves if a team character is dead), the Tsuful will be a likely difficult character to be totally mastered. It will be necessary to alternate between two styles of play to draw the essence of the fighter. With this kit, the publisher seems to want to offer us a character who can shine in an anchor's role, a role little highlighted in DBFZ much richer in point characters. Super Baby 2 seems to be able to place itself higher in the tier list than Frieza, also thought of as an anchor with zoning tools. Players will have to wait a little bit more to see if it's a sucess, or a failure.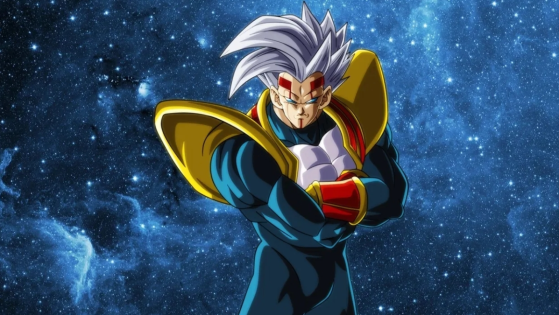 A new character from Dragon Ball GT will join Bandai Namco games. Super Baby 2, one form of the first major antagonist in the post-Dragon Ball saga, will make its in-game debut shortly.