The second Legends of Runeterra preview patch arrives this Thursday, November 14 at 8:00 PM PDT. To get ready for its return, here are the basics of the new game mode that will appear during this patch: the draft, called "Expeditions". Do you like the Magic Arena draft or the Hearthstone Arena? Then this mode is made for you! Randomness will be present throughout your expedition, but, part after part, you can improve your deck to make it enough to succeed in chaining the 7 victories!
Participation
Each week, you can try 3 drafts using either shard, coins or special tokens. After that, you can still make new ones, but with limited rewards, whether it's out of a desire to train or just for fun, all for free!
You can launch an Expeditions either for:
400 gold

4000 shards

1 Expeditions token
How it works
The first thing to know is this: for a draft, you don't need to have a collection of cards. Whether you have just started the game, or you have the complete collection of all the cards in the game, the mode will be the same for everyone. Apart from the game experience, all players start on an equal footing.
You start with a series of 15 bundles that will form your deck. The first two contain a hero who will define your game type, as well as a unit and a spell. You choose each time between several bundles of cards that are grouped according to an archetype. There are more than 20 of them and represent the different strategies present in the game.
Once you have received your two champions, you will alternate between two types of bundles:
Synergy is based on the archetypes you chose at the beginning. They are random but will work well with what you chose before.
Wild offers completely random cards. You may find both synergies and new strategies that may make you want to change direction.
In the deck you create, you can combine cards from up to three regions of Runeterra. Whichever choice you make, you will find cards that will help your strategies. But you'll never know which ones!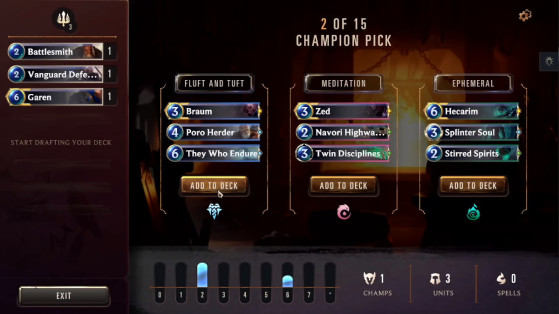 Innovations
Where a big difference is made with other classic card games, it is that the draft does not stop with the first match. On the contrary, after each game, you will have the opportunity to improve your deck! You can even get new champions!
You will also be able to exchange cards for others through the merchant. Three cards are potentially exchangeable each for another card that could well enhance your deck. Whether it is to improve your mana curve, pick the card that was missing from your strategy or remove an unnecessary card, exchanges will be extremely important for your deck!
The limit of 3 copies per deck will not be present in this mode, if you are lucky enough to get 5 powerful identical cards, nothing prevents you from doing so!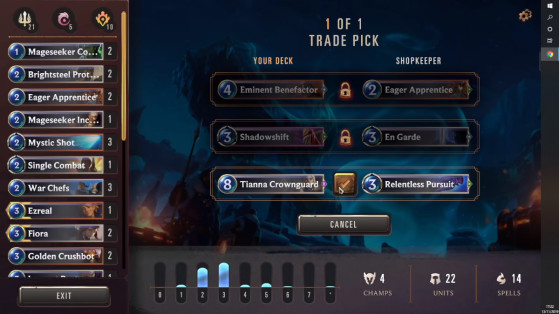 Winning
To win the expedition rewards, you simply have to play. Even if you emerge completely defeated, you will still win at least one hero.
The expedition stops if you win 7 victories or lose twice in a row. With each defeat, you can fall back on your feet by winning a match, until you reach the 6th victory. Be careful, for the last game, you will only have one chance to win!
If the first part didn't go as planned, no problem, you get a second chance! Indeed for each expedition, you will have two attempts! Thus even a dirty misfortune can be recovered in the second attempt.
Rewards
Once both attempts are completed or you have given up, you will win a reward! The more victories you achieve, the more rewards you will receive. If you win enough, you can even refund your next expedition, while earning cards. Even a total failure will give you a hero.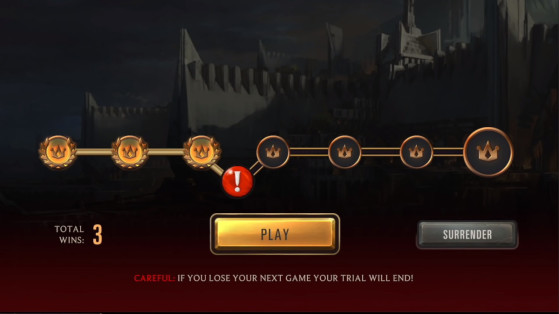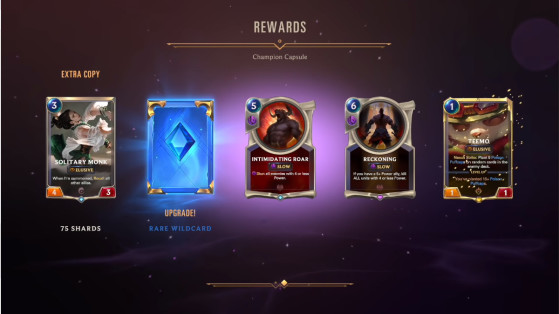 The important guides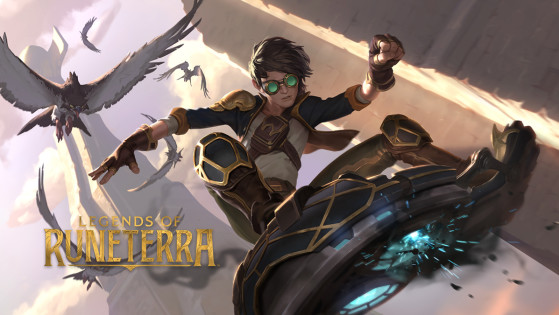 A new beta phase starts for Legends of Runeterra on November 14, and a new game mode will appear: the Draft. It should delight all lovers of the genre — here's what you need to know!