The Seventh Boss

Chromaggus
Random Abilities: Frost Burn, Corrosive Acid, Ignite Flesh, Time Lapse, Incinerate, Shimmer
Permanent Abilities: Brood Affliction: Black, Blue, Bronze, Green, Red, Enrage, Frenzy, Chromatic Mutation,
Location: Nefarian's Lair (9)
Type: Dragonkin
Strategy
A heavy portion of the raid, Chromaggus is a boss with numerous abilities which require multiple strategies in combat. You can find the general formation below: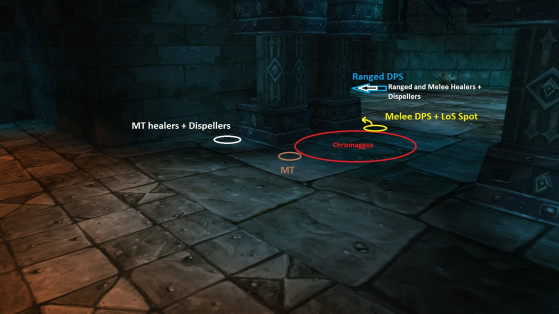 This formation not only allows the raid to avoid frontal damage, it also lets players avoid spells by breaking the boss' line of sight.
Chromaggus will use two random abilities per raid. Players should dodge all spells — aside from Time Lapse. Given that targets at the front of the boss will be stunned for 6 seconds, and that the tank will lose threat during this time, all raiders (besides the tank with the second highest aggro and the healers) should intentionally let themselves be stunned to allow the offtank to keep aggro and prevent the boss from killing the players who aren't stunned.
In addition, Chromaggus has the unfortunate tendency of using Frenzy every 10 to 15 seconds. If it is not quickly dispelled by Hunters with Tranquilizing Shot, the tank won't be able to survive more than a few seconds.
The boss will shimmer to change his elemental weakness at regular intervals (Fire, Frost, Shadow, Nature, Arcane). Don't waste your mana pointlessly when he isn't weak to your school of magic, as he'll just resist the majority your spells. However, pay attention to your threat when he is weak to your spells.
Throughout the fight, Chromaggus will place different kinds of debuffs on random players which all belong to different dispellable schools. Each debuff should be dispelled by their corresponding class. If a player is affected by all 5 debuffs, they will fall victim to a Chromatic Mutation and decimate the entire raid. The only debuff that can't be dispelled by player spells is Brood Affliction: Bronze, which can only be removed by Hourglass Sand, which can be looted from mobs in Blackwing Lair.
Finally, the boss will Enrage at 20% HP, drastically increasing his damage output. At this point you should try to burst down Chromaggus with your DPS whilst simultaneously healing and dispelling the debuffs, all the while being wary of his different random abilities. At this point your main tank should use all their defensive cooldowns to survive (Shield Wall, Last Stand, Lifegiving Gem,...)
Loot
Loot